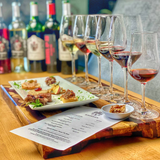 The Food & Wine Experience :: Every Saturday
60.00
Every Saturday at 1:00 p.m.
Reservations required. Please call 903.894.8995 to reserve.
Indulge your senses as we explore the magic that happens when you discover the perfect combination of food and wine. Learn which wines and foods complement each other as we taste through five Kiepersol wines and six tasty culinary offerings.
Each pairing has been developed to challenge your current perceptions, elevate the wines and give you a new appreciation of the artistry that our winemaker puts into each bottle of Kiepersol wine.